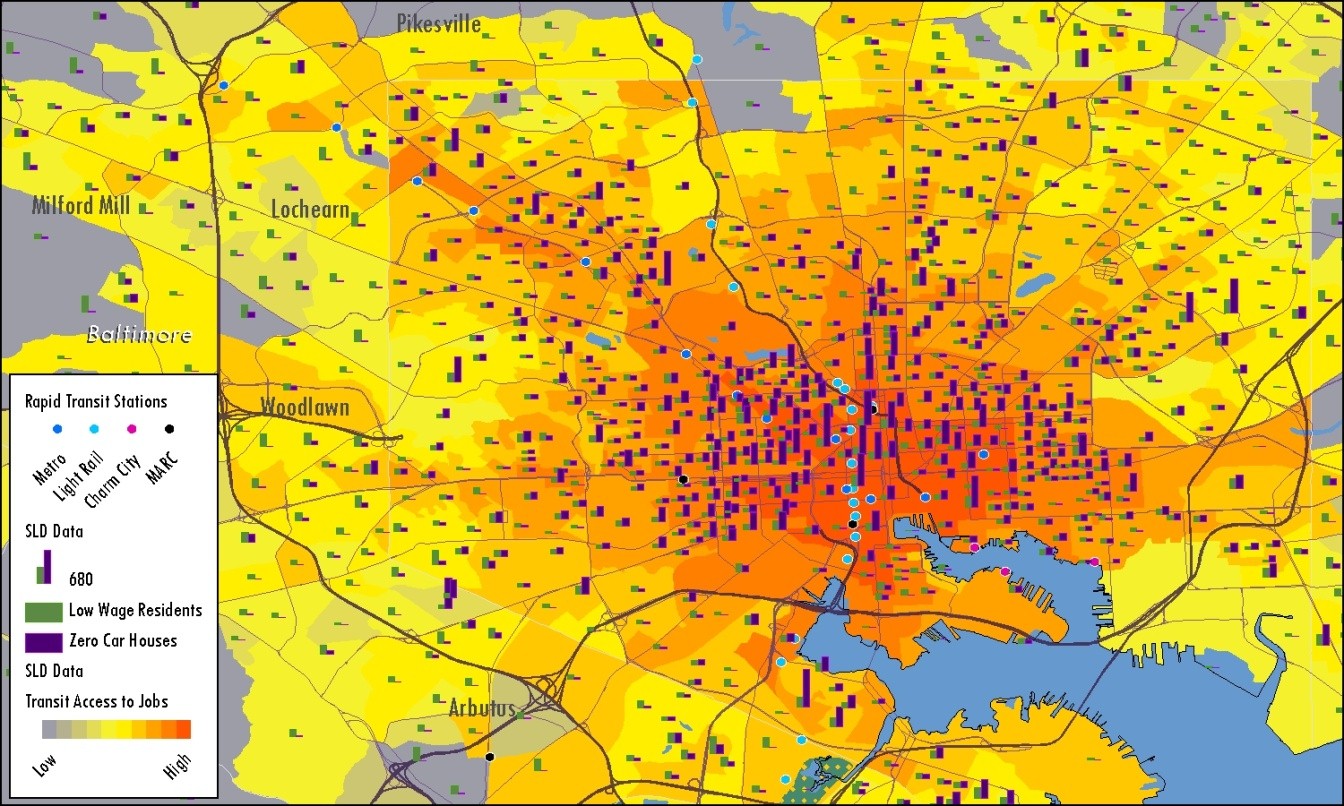 Earlier this fall, the US Environmental Protection Agency released the second version of its Smart Location Database (SLD), a GIS data resource for measuring "location efficiency" across the country.  Location efficiency refers to the idea that the urban context of a development - say, a suburban mall or a mixed use town center - influences the impact that development has on its environment, including things like travel behavior, energy consumption, and stormwater runoff.  Smart locations, then, are places where development impacts are minimized.
Renaissance led the development of the enhanced SLD, consisting of updating EPA's original pilot version from 2000 to 2010 Census geographies, but also incorporating a number of new measures.  I had the privilege to work on developing many of the indicators included in the SLD update and wanted to share some of the highlights of this exciting data product.
What Data is Available and How Can it Be Accessed?
The SLD includes over 90 variables that describe the built environment at a given location, especially focusing on the growing list of "D's" attributes (density, diversity, design, distance to transit, and destination accessibility are specifically covered) that have garnered much attention in planning research.  All data are compiled at the census block group scale with nationwide coverage.  Casual users can view data online in an interactive map, while GIS practitioners can download data for a region of interest or the entire country and conduct in-depth analysis.
The immediately cool thing here is that the SLD provides one-stop shopping for data that would otherwise need to be cobbled together from several disparate sources.  Moreover, it comes packed with "value-added" data that would entail substantial analytical effort to develop independently, including :
assessments of areas that are protected from development;
a host of land use diversity measures;
detailed network and intersection density metrics; and my favorite:
regional accessibility by auto or by transit.  (Although the latter is limited to those places that shared Google Transit feed files on the GTFS data exchange, it still covers over 200 transit providers.)
Uses and Applications
Having these data available at the block group scale with nationwide coverage opens up a ton of analytical possibilities.   Right out of the box, users can compare the D's attributes of various places within a region of interest or aggregate data for comparisons across counties, regions, or states.  The clever cartographer can produce maps that display multiple variables, providing complex analysis at a glance.  Users in rural areas and small towns - places where local data are often scarce - can access a rich array of information quickly.
EPA offers its own list of prospective uses of the SLD:
The Smart Location Database may be appropriate for use in local and regional planning studies when better local data is unavailable. Sample uses of the Database include:
Assessing and comparing neighborhood conditions
Identifying suitable locations for growth or investment
Scenario planning and transportation analysis
However, the SLD can be taken much further.  By providing a uniform set of measures, it introduces an open platform from which GIS developers can create powerful analytical tools.  These tools could measure how things like impervious surface area, vehicle miles of travel, or trips made by walking would be expected to vary based on where development occurs.  By lowering the costs of data development, the SLD would make such tools immediately deployable by planning professionals throughout the country.
Demonstrating this potential, EPA is currently using the SLD in a research study of workplace location efficiency, specifically examining how D's attributes at employment locations impact travel to and from work.  I'm excited to see what tools and methods of analysis will emerge from that study and how others will extend the utility of the SLD through custom geoprocessors and lightweight applications.
Accessing More Information Faster
Planners can always benefit from having faster, easier access to more information. The SLD contributes to a growing body of rich, readily available data that can help local and regional planners understand their communities more comprehensively and, in turn, serve those communities more efficiently and effectively.  I hope to share some additional, specific thoughts on how we can do that in the near future and perhaps provide more detail on using GTFS data to assess transit accessibility.  In the meantime, happy mapping.
Those who are interested in more detailed information on the data contained in the SLD, as well as the source data and methods used to develop it, should check out the SLD User Guide.
–Alex Bell, Cities That Work Blog